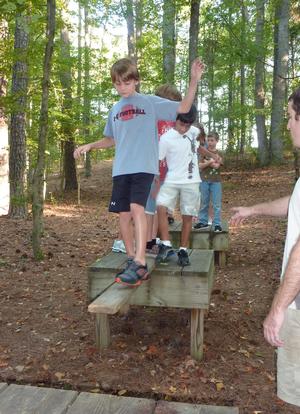 Bedford Challenge Course
The Bedford Challenge Course is designed to build cooperation, trust and teamwork in groups. We use a variety of activities including warm-ups, games, team building initiatives, and low and high ropes course elements. Through participation in these activities, groups practice and develop problem-solving skills as well as improving cooperation and communication.
Designed and built by Project Adventure, a worldwide leader in the construction and operation of ropes courses, Bedford's Challenge Course contains over 30 different team problem-solving elements. Participants of all ages can share in the challenge course activities. Some of these can be physically demanding, but are designed within the capability of anyone who is in reasonably good health. All activities are presented on a "challenge by choice" basis, which means that participants choose their own level of participation.
The motto of the Bedford Challenge Course is T.R.E.E., Teamwork, Responsibility, Encouragement and Effort. Participants discuss the relevance of these values to their experiences in the activities as well as their application to other areas of their lives.
Bedford students will participate in Challenge Course activities throughout the school year. Families of Bedford students may attend F.A.C.T. (Family Adventure Challenge Team) campouts in which they share the challenge course experience with other Bedford families. Groups from other schools, churches and businesses may rent the Challenge Course and its instructors for team building experiences. For more information, contact Jeff James at The Bedford School, jjames@thebedfordschool.org.