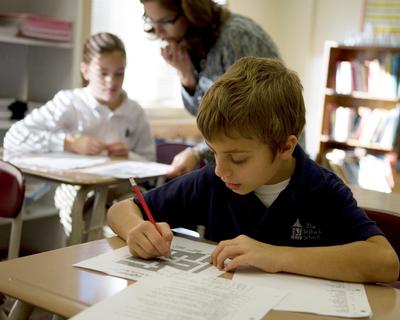 Overview
The Bedford School provides an exceptional structured program for first through ninth grade students with learning differences such as dyslexia, dyscalculia, auditory processing disorder, ADD/ADHD among others. Fully accredited by the Southern Association of Independent Schools (SAIS-SACS) and the Georgia Accrediting Commission, the school serves approximately 150 students. A highly individualized educational program is implemented with a student to faculty ratio of five to one. The Bedford School offers a college-preparatory curriculum as well as classes for remediation. A school-wide discipline system and uniforms help establish a structured learning environment.
The Bedford School is divided into the Lower and Middle schools. Students are ability grouped within each school and attend classes of twelve or fewer for each academic subject. All students change classes and receive English/Language Arts and Math instruction twice daily. A structured, multi-sensory reading program is provided for students who need to improve decoding skills. Academic instruction is enhanced through the use of individual Chromebooks for all students, a STEM lab, and other innovative technology including eBeams in all classrooms.
Parent Handbook: Click here to view a copy of the 2023-2024 Parent Handbook.